Garmin G3 Vision Small regions
Garmin's Premium Chart Offering
Derived from official charts and private sources to provide navigational aids, spot soundings, depth contours, tides and currents, and detailed harbors and marinas
Garmin Auto Guidance technology shows a suggested route to a destination¹
Depth Range Shading for up to 10 depth ranges enables you to view your target depth at a glance
Up to 1-foot contours provide a more accurate depiction of the bottom structure for improved fishing charts and navigation
Shallow Water Shading feature allows for depth shading at a user-defined level to aid in navigation
Unique 3D views like MarinerEye and FishEye provide additional perspective both above and below the water line
High-resolution satellite imagery of ports, marinas, bridges and navigational landmarks for superior situational awareness
Worldwide coverage available
Keep your charts up to date with our industry-leading New Chart Guarantee and discount card update program
Get a Fresh Perspective
Get a fresh perspective when you take to the water with BlueChart® g2 Vision®. With BlueChart g2 Vision data, you'll get detailed marine cartography that provides convenient viewing of nautical content and other premium features. BlueChart g2 Vision allows you to see your vessel's precise, on-chart position in relation to naviads, coastal features, anchorages, obstructions, waterways, restricted areas and more. You will also have access to detailed mapping capabilities that include Safety Shading, Fishing Charts, smooth data transition between zoom levels, harmonious transition across chart borders, and reduction of chart discontinuities. Premium features include 3-D perspective above and below the waterline, Auto Guidance, high-resolution imagery, and "real picture" aerial photos of ports, harbors, marinas, waterways, landmarks and other points of interest. It's the most realistic mapping display Garmin has ever offered.
Unparalleled Coastal Chart Coverage
Provides exceptional coverage, clarity and detail with coastal charts that feature integrated Garmin and Navionics® data
Auto Guidance¹ technology calculates a route using your desired depth and overhead clearance and provides a suggested path to follow
Includes depth range shading for up to 10 depth ranges, enabling you to view your target depth at a glance
Up to 1' contours provide a more accurate depiction of the bottom structure for improved fishing charts and navigation in swamps, canals and marinas
Experience unparalleled coverage and brilliant detail when you're on the water with charts that feature integrated Navionics® data, Auto Guidance technology¹ and more.
Auto Guidance Technology
Whether you are fishing or cruising, select a spot, and get a route showing you the general path and nearby obstructions at a safe depth1.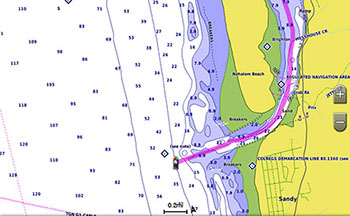 Depth Range Shading
This feature displays high-resolution depth range shading for up to 10 depth ranges so you can view your designated target depth.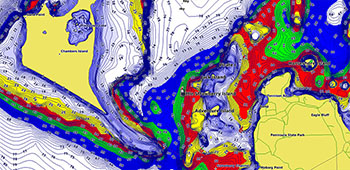 Detailed Contours
BlueChart g3 charts feature 1' contours that provide a more accurate depiction of bottom structure for improved fishing charts and enhanced detail in swamps, canals and port plans.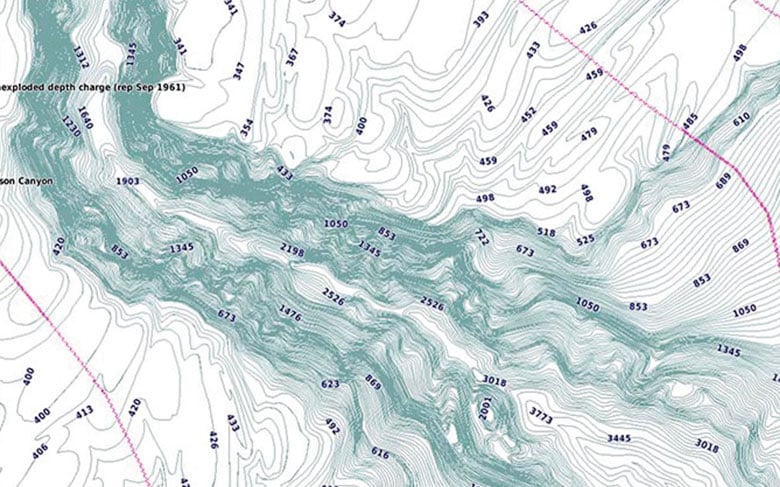 Shallow Water Shading
To aid in navigation, Shallow Water Shading allows map shading at a user-defined depth to give a clear picture of shallow waters.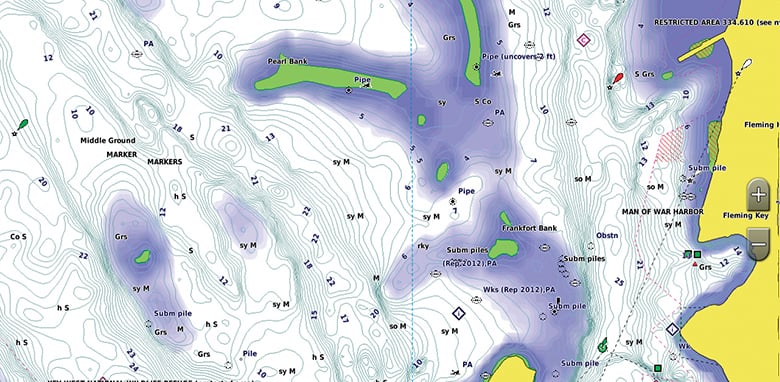 ¹Auto Guidance is for planning purposes only and does not replace safe navigation practices. Auto Guidance is not included in preloaded BlueChart g3 for ECHOMAP™ Plus series chartplotters